French Pronunciation Course
Online Pronunciation Course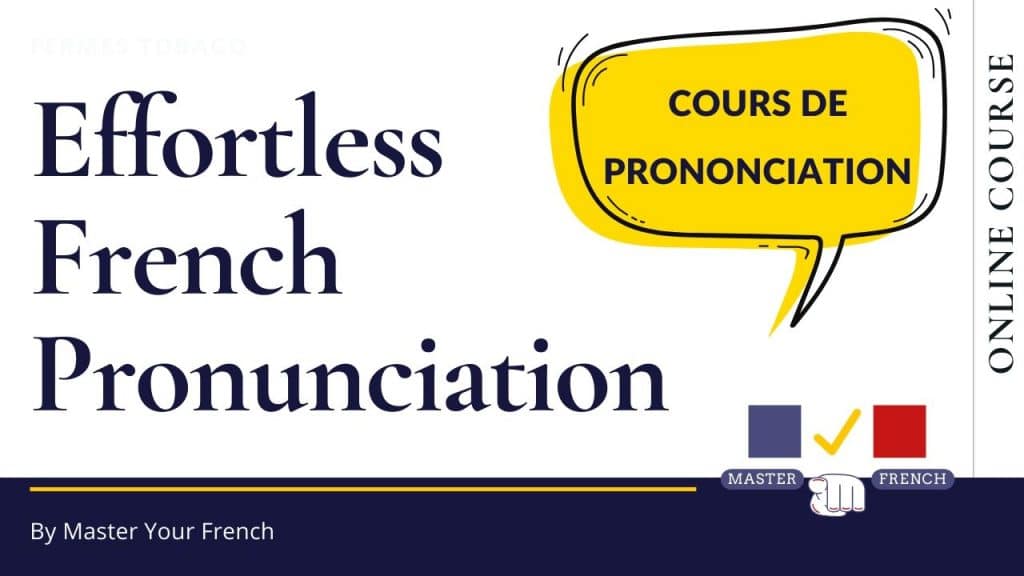 Are you ready to get better at French? 
Wondering how to improve your listening and comprehension skills? 
Do you want to make faster progress and avoid common mistakes?
Effortless French Pronunciation Course
Master the Secrets of French pronunciation
In this Effortless French Pronunciation course, you'll learn how to pronounce words in French with real conversation and natural vocabulary. 
You'll access to hundreds of audio and video exercises that you can listen to from anywhere and learn on-the-go in your free time.
The French course is made of a training track that will help you perfect your French pronunciation. 
Learn at your pace, take your time when practicing the pronunciation exercises, replay the videos, and revisit the lessons as you wish.
You'll also get a chance to interact with the French learning community. 
Join our private Facebook group to interact with other members. 
Practice and share ideas in French with other members from around the world. And so much more!
Get access to the French pronunciation course
The Effortless French pronunciation course is available part of the membership plan. 
Access the membership and you'll get access to the French pronunciation course. 
You'll also get access to other courses available in the membership plan. 
The features included in each plan of this pronunciation online course are below and detailed here.
French Pronunciation - Membership
Improve your Pronunciation
Videos of real-life conversations​

Pronunciation lessons in video

Quizzes to evaluate your progress
Why Choose Master Your French Pronunciation
Learn French in just a few minutes a day and with personalized feedback, you'll reach fluency in French. 
You won't be learning alone, you'll be part of a community and using one of the best educational content to learn French online. 
The Master Your French Method will give you significant results in a remarkably short period of time. 
Improve Your Pronounciation
Discover the "Golden Rule" to pronounce French like a Native even if you don't have the time you would like to have.
Explore the techniques to get the most of the 15 minutes rules and other strategies that will make you speak french like a native.
Why This French Pronunciation Course?
Join me in this French online course to learn how to pronounce words and phrases in French with real conversations and natural vocabulary. 
You'll access to hundreds of audio and video exercises so that you can practice both of your listening and pronunciation skills. 
Watch videos and listen to the audio recordings wherever you are!
Frequently Asked Questions
Master Your French is a community of French language learners. In addition to the online courses, we publish articles and videos on a weekly basis with the latest french resources and tips you won't find anywhere else. 
How much time this will take me every week?
This depends on the level of commitment you can afford every week. In general, my students work at least 4 hours per week.
As soon as you buy the plan you can start the online course. You'll receive an email in the next 24 hours with all the information needed to access the online course. 
A Facebook group, what for?​
The goal of this group is the right place if you're looking to exchange with other French learners and get a direct access to speak with me. In the group, you're get the opportunity to share your difficulties and questions. In return, you'll get actionable tips that will provide you with the required boost and the right information so that your French journey continues to advance!
What if I want to cancel?​
If you're not happy with the program you can receive a total refund within 30 days after your purchase (except for the coaching sessions that were already provided). You just have to send me an email.
What if I have more questions?
I'm available during business hours: 9 am to 5 pm (Paris Time). You can email me at contact@masteryourfrench.com for more help. Usually, you'll get a reply very quickly.
I don't know what is my French level?
Please, contact us and we'll help you evaluate which plan/course is the best for you to select.
Join The French Pronunciation Course