20+ French Halloween Costumes That Will Inspire You
Updated: June 11, 2022 by Mylene in Entertainment ▪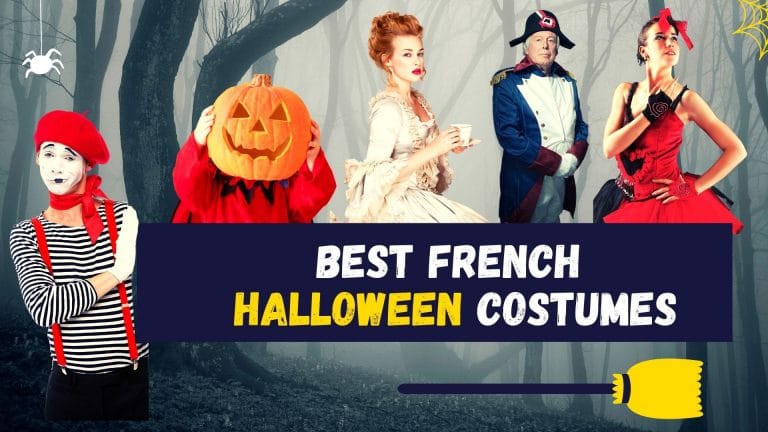 This blog may contain affiliate links. If you purchase these products following my unique affiliate links, I will earn a small commission at no additional cost to you
Do you want to put on your favorite Halloween outfit and take some photos of awesome memories?
But which French costumes will be the go-to Halloween costume for you this year?
No need for magical powers to find the perfect costumes for Halloween, sometimes you just use your own dress and a few choice accessories.
French costumes for Halloween
If you're celebrating Halloween this year, you might want to try one of these options below if you're still unsure of a costume choice!
In what follows, you'll find 21 great French Halloween costume ideas to inspire you in 2021:
Classic French costumes for Halloween
Let's start with some inspiring costume ideas for Halloween to make you look like one of these many French celebrities including Napoleon, Marie-Antoinette, Karl Lagerfeld​, and Amélie Poulain.
1. Napoleon
Napoleon Bonaparte was a military leader who became notorious as an artillery commander during the French Revolution.
If you're looking to buy a napoleon costume, you can get it by clicking on the following link:
Napoleon French Emperor Costume
2. Marie-Antoinette
Marie-Antoinette is the last queen of France and ultimately ended her life during the French Revolution. This costume is perfect for getting a historical as well as a sexy look!
If you're looking to buy a queen Marie Antoinette costume, you can get it by clicking on the following link:
Queen Marie Antoinette Gothic Victorian Dress Costume Purple
3. A Moulin Rouge Dancer
The Moulin Rouge is the French cabaret famous for its high-kicking cancan dance! This fun and sexy look will make you the center of attraction!
If you're looking to buy a Parisian moulin rouge dancer, you can get it by clicking on the following link:
Parisian Showgirl Set, Pink/Black
4. Mona Lisa
You can dress up like Mona Lisa the world-famous painting created by the famous artist Leonardo da Vinci.
If you're looking to buy a Mona Lisa painting, you can get it by clicking on the following link:
Mona Lisa
5. Joan of Arc – Jeanne d'Arc
Do you prefer to wear armor and military gear? And do you want to be the woman who led France to its late victory in the 100 Years War? Choose to be Jeanne D'Arc for one night.
If you're looking to buy a middle-aged military costume like Jeanne d'Arc, you can get it by clicking on the following link:
Joan Of Arc Costume
6. Coco Chanel
Looking for a fashion-inspired Halloween costume? The key elements of this costume are simplicity, elegance, and comfort. The colors are black and white. Get the pearls necklace like the one in the picture below.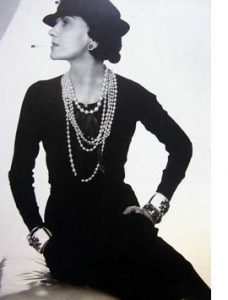 7. Karl Lagerfeld
Karl Lagerfeld was a fashion designer who lived in Paris. You'll need a black and white uniform: eyes glasses, wig, fingerless gloves, and cravat.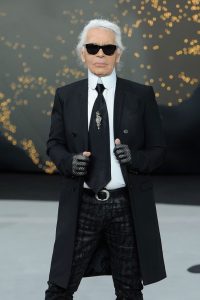 8. Amélie Poulain
Amélie has a vivid imagination and her goal in life is to spread happiness in the world. Her costume is a black polka dot top, a green cardigan, a red skirt, and black Oxfords.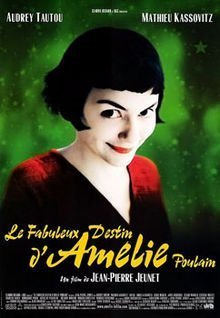 French-themed Halloween costumes for couples
These following French-themed Halloween costumes are sure to get a laugh wherever you go.
9. Chef and Bread
This costume is family-friendly, you can wear it with your partner or with your child. You feel like a l like a real bread!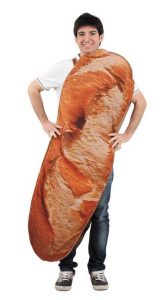 10. Wine and Cheese
A wine and cheese dress is what you need for this Halloween to be perfectly paired with your partner!
To get this wine and cheese costume for Halloween click on the following link:
Wine and Cheese Couples Halloween Costume
11. 18th century couple
If she's dressing up as Marie Antoinette this Halloween, he can choose the costume of King Louis XVI for instance.
Culture Men's Aristocrat Costume
12. French mime couple
Want to wear your normal clothes? Pull out a striped shirt and black bottoms, then add a beret, white glove and you're ready to go!
Get the striped shirt, the black bottom, and the beret from the following link:
Women's 3 Piece Marvelous Mime
13. Brittany couple
This is a traditional French costume for couples.
14. French man and French girl
Don't want to spend a ton on a costume that you'll only wear once? You can use your own clothes and you just need to have a French beret.
If you're searching for French-themed clothes, you can get them by clicking on the following link:
Women Girls French Themed Party Beret Hat Chiffon Scarf Gloves Retro Oval Sunglasses Fancy Dress Costume
15. Asterix and Obelix
Another costume for couples is a big belly for him and a mustache for her.
If you're looking to look like Asterix on Halloween, you can get it by clicking on the following link:
Adults Asterix Style Blonde Gaul Wig and Moustache
French-inspired Halloween costumes for kids
Now let's check some Halloween costumes that could make the perfect outfit for little kids!
16. Cute Baguette
Get a chef costume and carry a baguette.
If you're looking to carry a fake French baguette, you can find one by clicking on the following link:
JEDFORE 11Inches Artificial French Long Bread Lifelike Fake Cake Food Toy for Home House Kitchen Party Decoration – PU Material, 2pcs
17. Croissant
A cute little kid dressing as a croissant? Check the related blog on ohhappyday to make the costume by yourself.
18. French Macaron
To turn your baby into a tasty patisserie, try a macaroon costume, and choose your flavor.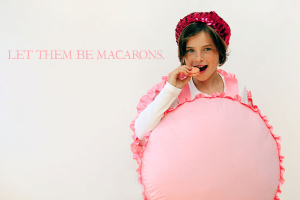 19. Eiffel Tower
Dressing your little one as a cute Eiffel Tower is especially great if they build it with you. Check this blog to do it together.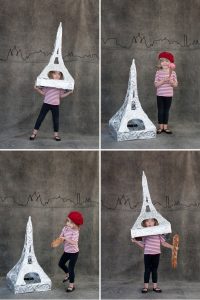 20. French Rooster
This hilarious costume represents the symbol of France.
If you're looking to buy the baby rooster costume, you can get it by clicking on the following link:
Baby Rooster Costume – Infant Halloween Chicken Costume For Girls And Boys
21. Marie Curie
The look is easy to pull together with pieces you already own! A vintage dress or just a lab coat and a chemistry flask, of course!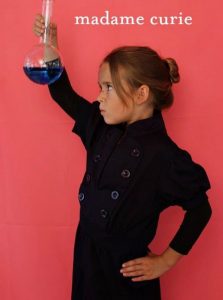 Do the French celebrate Halloween?
Halloween is an American celebration that is increasingly celebrated in France.
Many French people consider Halloween as a commercial celebration. And of course, stores try to take advantage of it.
On Halloween whether in France or in the USA, parents and especially kids:
Get to have fun dressing up
Go to parties
Eat and laugh together
In addition to the above costume ideas, Google provides the top-trending costume searches in the United States: Conjure up Halloween's most popular costumes.
What does a kid say when you open the front door:
Des bonbons ou un sort? meaning candies or a spell?