10 best French comics to level up your French
Updated: June 11, 2022 by Mylene in Entertainment ▪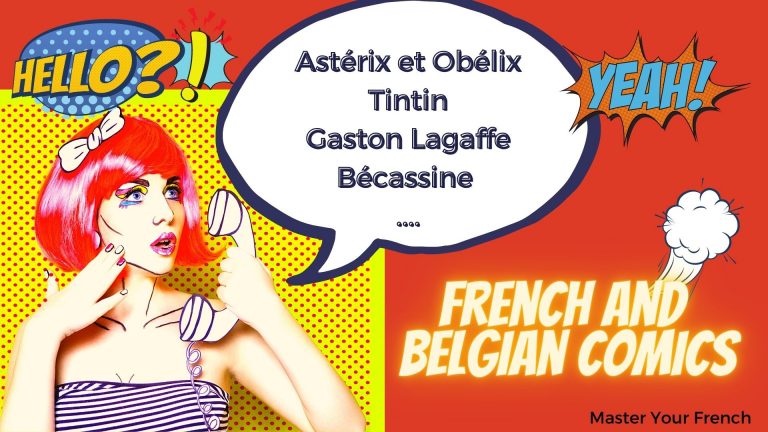 This blog may contain affiliate links. If you purchase these products following my unique affiliate links, I will earn a small commission at no additional cost to you.
In this blog, you'll discover why you should start improving your French learning by reading a comic, also known as bande dessinée in French. Besides, I'll give you the name of 10 popular Franco-Belgian comics:
Whether you want to plunge into a mysterious world of adventure or discover the everyday life of a typical French family there'll be a French comic just for you!
This blog post is also available as a Web Story 👉 10 popular Franco-Belgian comics.
What Are the Advantages of Learning French with Comics?
Reading French comics can help French learners improve their French level. Comic strips, bandes dessinées, show and tell. They have many advantages and among them:
The topics: Your French journey is easier if you read about a topic that interests you. Do you prefer a mysterious, funny, or everyday life comic? There are many different French comic genres to suit all tastes. I'm sure you'll find the right one for you that will entertain you and at the same time let you find your own interests in learning French.
The visuals: Comics help French learners because they are visual. This is great for people who have a visual learning style. Just look at the expression of the character and you'll better understand the situation!
The dialogues: Comics mainly contain dialogues and those dialogues are similar to spoken French. Combining short narratives, brief dialogues, and illustrated actions is a great way to learn French effortlessly and effectively.
The previous points highlight how context is key in helping French learners understand and learn French with French comics (and without feeling like homework).
Join our book club to read and discuss with a group of French learners a different book every month.
Learn more about our book club.
How Reading Comics Will Improve Your French?
So don't be afraid to read French comics even if you have a beginner level! You'll understand and at the same time reading comics in French will help you level up your:
French vocabulary: Comics will help you build a stronger vocabulary and you'll learn colloquial French sentences!
Spoken French: A comic book is an authentic document made for native speakers. It's not a traditional/schoolbook to learn the French language. Therefore, French learners can benefit from this to learn the French language as spoken by native people.
French Culture: And last but not least, reading French comics will improve your knowledge of the Franco-Belgian culture. Discover and immerse yourself in the most francophone of cultural activities that native speakers usually do or engage in. It's great to enable you to develop your language skills more rapidly.
Below is your next reading list of French comics that are worth checking out.
I'll give you below the name of comics that are perfect for Beginners and Intermediates.
10 comic books to learn French
It's time to hit the best French comics.
Let's find the perfect comic together!
1. Astérix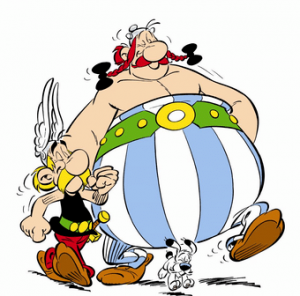 Gaul vs roman, in 50 B.C.
Astérix comics appeared in the Franco-Belgian magazine Pilote in October 1959.
It was written by René Goscinny and illustrated by Albert Uderzo.
Each Asterix comic starts with the following introduction:
" The year is 50 BC. Gaul is entirely occupied by the Romans. Well, not entirely… One small village of indomitable Gauls still holds out against the invaders. And life is not easy for the Roman legionaries who garrison the fortified camps of Totorum, Aquarium, Laudanum and Compendium.."
The adventures of Asterix and Obelix are the most famous Franco-Belgian comics in the world as it has been translated into 111 languages.
The comic is the story of a tiny village named Gaul. The villagers try to avoid Roman occupation thanks to a magic potion. The main characters are the short but smart Asterix and the dim-witted warrior Obelix. Obelix has fallen into the magic potion as a kid and therefore has extraordinary strength.
By the way, there is a theme amusement Park in France based on the comic book Asterix: le parc Astérix. There are more than two million visitors per year.
You can find this comic in any French bookstore or you can order it online from Amazon.
If you're looking to read a recent Asterix comic, you can get it by clicking on the following link: La fille de Vercingétorix (French Edition)
2. Les aventures de Tintin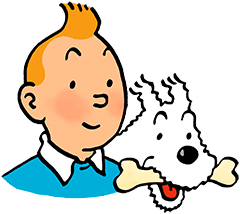 Reporter in the 20th century and his dog.
Les aventures de TinTin, or the adventures of Tintin in English, is a comic that was created by Belgian cartoonist Georges Remi (Hergé).
It first appeared in January 1929 in Le Petit vingtième (the little twentieth).
It's another timeless classic.
The story revolves around the character of a Belgian reporter, Tintin. He's always accompanied by his dog named Milou.
The story is set during the 20th century.
Tintin traveled around the world.
You can therefore discover new cultures, countries, and ways of living in French. If you're looking to read a Tintin comics, here's one recommended bande dessinée that you can buy : Les Aventures de Tintin L'Etoile mystérieuse (French Edition)
3. Gaston Lagaffe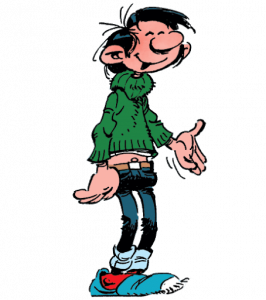 The gaffe-filled life of a lazy employee.
It was created in 1957 by the Belgian cartoonist André Franquin in the Franco-Belgian comics magazine Spirou.
These comics focus on the everyday life of Gaston Lagaffe (meaning The Blunder).
Gaston is an office junior working at Spirou, the magazine in which the comic was published. He's lazy, avoiding work, missing deadlines…
Instead, he prefers hobbies or naps and panics over deadlines.
4. Blake et Mortimer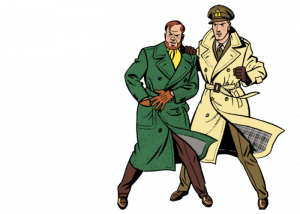 Mystery, espionage and science fiction.
Blake Et Mortimer was created in 1946 by the Belgian writer and comics artists Edgar P. Jacobs.
It relates the adventures of Philipp Mortimer, a British scientist, and his friend Captain Francis Blake of MI5, a spy.
Both investigate and try to stop their nemesis, Colonel Olrik.
5. Les Schtroumpfs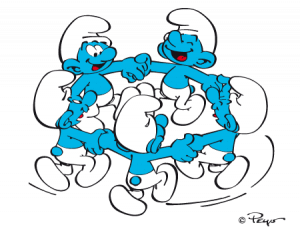 Fictional colony of small, blue, human-like creatures.
Les Schtroumpfs, or The Smurfs in English, were created in 1958 by the Belgian comics artist Peyo (Pierre Culliford).
Les Schtroumpfs are blue humanoids living in mushroom-shaped houses. All the characters, mostly men, look alike.
They live in an enchanted forest and they try to fight the evil Gargamel and his cat Azraël.
Note that all the Schtroumpfs are named by their personality.
For instance, Schtroumpf farceur (Jockey smurf) plays pratical jokes on his fellow Schtroumpf. Les Schtroumpfs wears Phrygian caps which came to represent freedom.
The characteristic of the Smurf language is the frequent use of the word schtroumpf and its derivatives.
On va schtroumpfer des pommes (we're going to smurf apples) means on va cueillir des pommes (we're going to gather apples).
If you prefer reading a bande dessinée about les Schtroumpfs then here's one to get: Les Schtroumpfs et le vol des cigognes (French Edition)
6. Spirou et Fantasio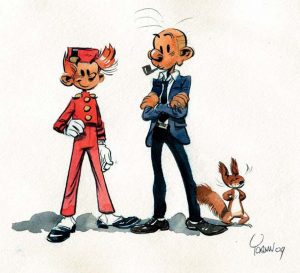 Two intrepid journalists explore the world.
It was created by Robert Velter in 1938.
It relates the fantastic adventures of Spirou and Fantasio around the world.
You'll discover as well their pet squirrel, Spip.
They go from challenging the mad scientist Zorglub or confronting the Italian mafia and discovering the secret of a mythical animal: the Marsupilami.
7. Bécassine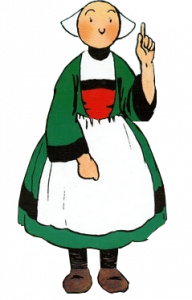 Housemaid and nanny in early 20th-century Bretagne.
Bécassine first appeared in la Semaine de Suzette in 1905.
The writer was Jacqueline Rivière.
She's wearing a green dress with lace coiffe and clogs. She is the typical provincial girl as seen by people living in Paris. She is usually portrayed without a mouth.
The nickname Bécassine is derived from the French word "bécasse" (woodcock) which is also used as a way of saying fool in French.
8. Lucky Luke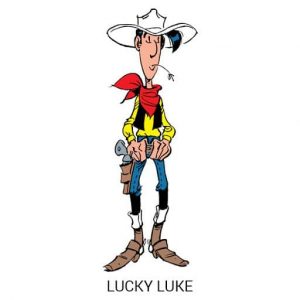 French comic set in the US Old West.
Lucky Luke was created by the cartoonist Morris in 1946.
The series takes place in the American Old West of the United States.
It relates to the adventures of Lucky Luke, "l'homme qui tire plus vite que son ombre" (the man who shoots faster than his shadow). He's accompanied by his intelligent horse Jolly Jumper.
Lucky Luke fights against fictional or inspired villains such as the Dalton Brothers.
You'll find humorous elements parodying the Western genre.
If you prefer reading a bande dessinée about Lucky Luke then here's one to get: Les Aventures de Lucky Luke d'après Morris – Tome 8 – Un cow-boy à Paris (French Edition)
9. Boule et Bill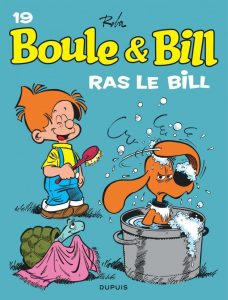 The adventures of a typical French family: a man, his wife, their son Boule and Bill the cocker spaniel.
Boule et Bill, or Billy And Buddy in English, was created by Jean Roba and Maurice Rosy.
It appeared in Spirou in 1959.
The series relate the everyday life of seven-year-old Boule and his dog Bill as well as the turtle Caroline.
Most of the gags happen in or around the house.
Do you prefer reading about Boule et Bill? Here's a band dessinée to read: Graine de cocker (French Edition)
10. Babar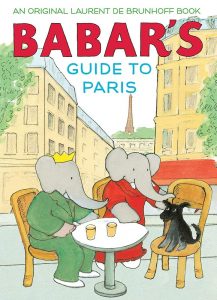 The adventures of a young elephant named Babar, perfect for the kids.
Babar, or Babar The Elephant, appeared in 1931 in the French children's book "Histoire de Babar", Babar was created by Jean de Brunhoff.
The series relates the adventures of a young elephant named Babar.
His mother was shot by a hunter. He flees the jungle and finds a new home in another city.
He's then befriended by the Old Lady who takes care of him.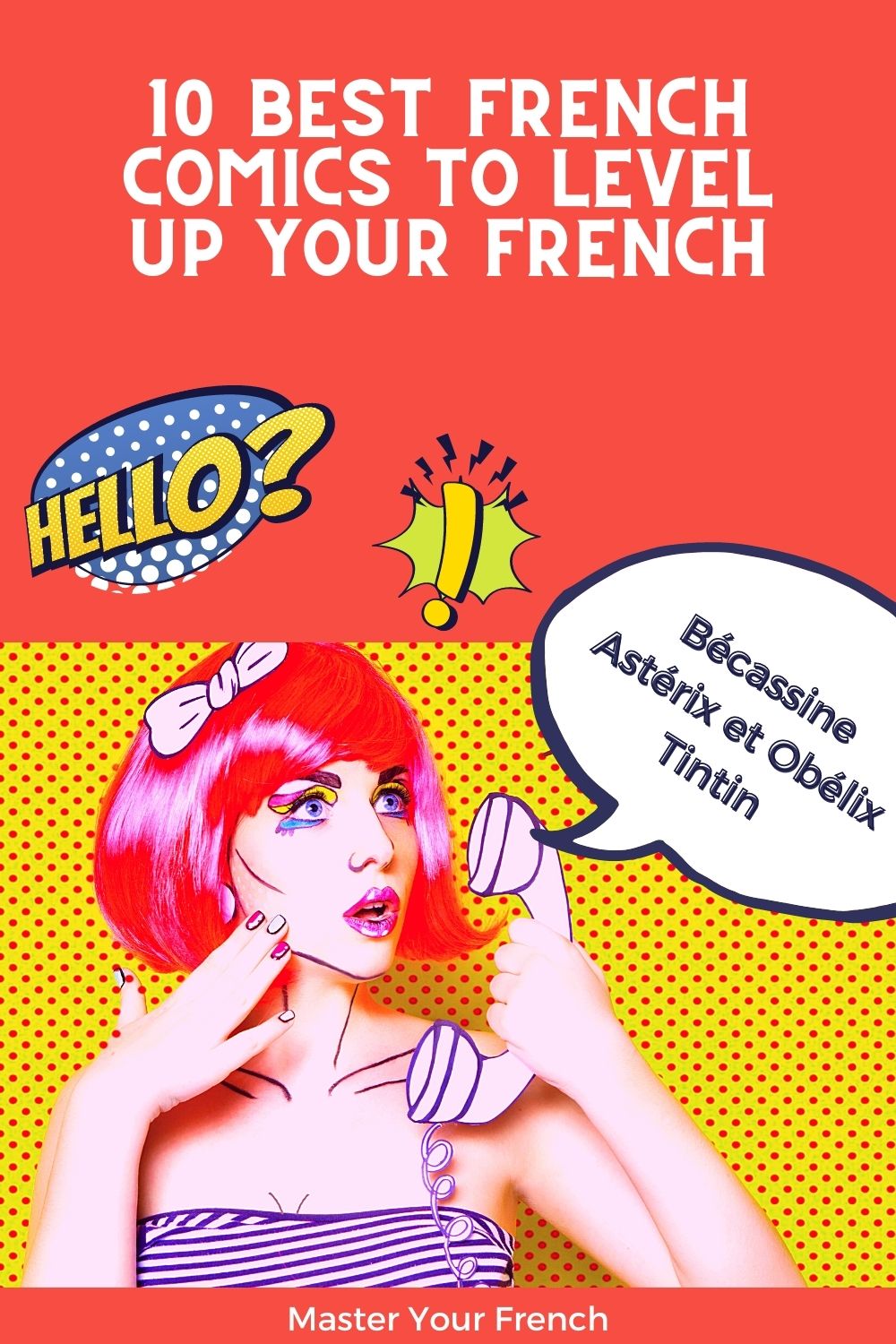 Learn practical French today
While this certainly isn't a comprehensive list of the best French comics, this selection will help you dive deeper into the French language. I've scoped the selection to cover a list of the best classics from the Franco-Belgian traditional and famous bandes dessinées to help you learn French in a fun and interesting way. If you'd like to learn French vocabulary you can check this article about comics vocabulary in French.
Any of these comics will make you laugh, create an emotion of excitement, and push you to ask for more French reading. This will make a great complementary material to an online French course.
I encourage you to consider taking our online French courses and continue to explore the many benefits that Master Your French has to offer. Happy enrolling, French learners!