11 Books To Read Before You Visit Paris (Classics & Contemporary)
Updated: March 11, 2023 by Mylene in Entertainment ▪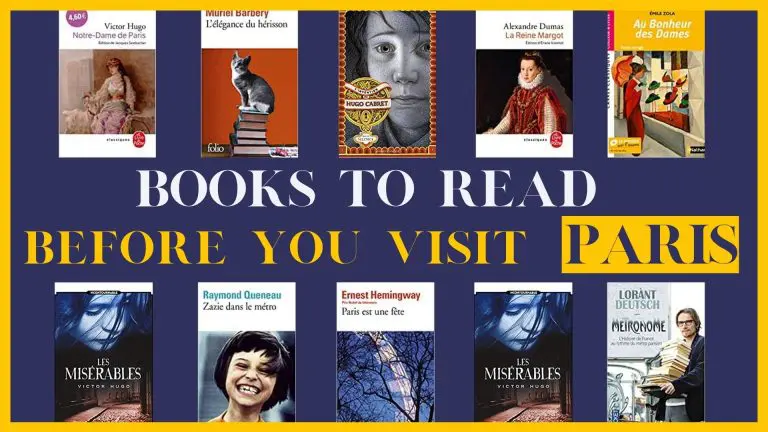 Disclosure: this article may contain links to products or services (including Amazon) that pay me a small commission. This is at no extra cost to you.
Known for the beauty of its architecture, famous landmarks, and its cafe culture, Paris is a favorite destination for many. La Ville-Lumière, The City of Light, built its identity as the epicenter for art and culture and as a place that gathered poets, authors, scientists, and engineers. Not only has it been the home of many famous authors but it also acts as the backdrop for many classic books and contemporary works of fiction and nonfiction.
Are you planning to visit the French capital? Nothing better than reading books that have the soul of Paris. The books listed in this article capture some of what Paris has to offer, and they'll give you a mad case of wanderlust. In no particular order, I give you my picks below. This list is obviously far from being exhaustive.
In this article you'll discover various books that are grouped in three categories :
Classic books set in Paris
If you're traveling to Paris, and you're interested in literature, then you really have to read some of Victor Hugo's masterpieces. The following books will allow you to travel with the protagonist to visit Paris. The stories will help you visualize where the stories take place, and they will also help you improve your French. Reading French books, in fact, is one of the best methods for learning the language.
1. The Hunchback of Notre Dame
Book title in French: Notre-Dame de Paris
Author: Victor Hugo
Date of the story: 1482
This is THE classic of Paris classics. This French Gothic novel takes place in Paris and centers around the Notre-Dame cathedral.
This is the iconic and powerfully melodramatic story of Quasimodo, the deformed hunchback who lives in the bell tower of medieval Paris's most famous cathedral. He's tormented by almost everyone, but then someone steps forward to help: the beautiful gypsy Esmeralda, whose single act of kindness fills Quasimodo with love.
2. Queen Margot
Book title in French: La reine Margot
Author: Alexandre Dumas
Date of the story: 1572
The religious war between Catholics and Protestants rages on. To reconcile the French, Catherine de Medici decides to marry her daughter, the Catholic Marguerite de Valois, Queen Margot, with the Protestant Henri de Navarre, the future King Henri IV.
During the night of Saint-Barthélémy, while blood flows freely in the streets of Paris, Queen Margot saves the lord of La Môle from death. A passion is born between Margot the Catholic and the Protestant La Môle.
3. Les Misérables
Book title in French: Les Misérables
Author: Victor Hugo
Date of the story: 1815
Everyone should read this book at least once in their lives.
The novel describes the lives and interactions of several characters, in particular the struggles of ex-convict Jean Valjean and his experience of redemption. Every character has clear and legitimate motivations, griefs and joys, weaknesses and strengths, and they feel so real like you are right there with them in the midst of everything.
4. The ladies's paradise
Book title in French: Au Bonheur des Dames
Author: Emile Zola
Date of the story: 1864-1869
This Émile Zola's novel captures the period when Paris started to develop and to turn into the modern and mythic city we know today. As a result, Paris saw emblematic changes in consumer culture, sexual attitudes, and class relations.
Contemporary fiction books set in Paris
5. The Elegance of the Hedgehog
Book title in French: L'élégance du hérisson
Author: Muriel Barbery
Date of the story: 2006
A highly recommended contemporary novel is l'élégance du hérisson.
This book has been described as "the publishing phenomenon of the decade" by Le Figaro. Therefore, it's clear that you should consider adding this book to your book worth reading list. The story takes place in the center of Paris. It's about a 54 years old woman who works as a concierge in an elegant building populated by bourgeois families, and a 12-year-old brilliant girl from an incredibly wealthy family.
6. The invention of Hugo Cabret
Book title in French: L'Invention de Hugo Cabret
Author: Brian Selznick
Date of the story: 1931
This novel tells the story of Hugo Cabret, an orphan, clock keeper, and thief. He lived in the walls of a Parisian train station. Reading this book will make you better understand why Paris, with its science museum, the Eiffel Tower, and the boat rides, is a wonderful place for kids. You can also learn more about other cities in France by reading our article about the biggest cities in France.
7. A Moveable Feast
Book title in French: Paris est une fête
Author: Ernest Hemingway
Date of the story: 1920s
The book vividly conjures the lively mood of post-World War, Paris, along with the boundless imagination and voracious passion that Hemingway himself had. This story is poignant and eloquent, filled with simple, beautiful moments, and the reality of living as a young, poor artist in the city on the Seine.
Looking for more French materials to read? Here is a reading list of French comics that worth checking out. And if you're looking for some light reading for the airport, you could try Zazie dans le métro.
8. Zazie in the metro
Book title in French: Zazie dans le métro
Author: Raymond Queneau
Date of the story: 1950
Impish, foul-mouthed Zazie arrives in Paris from the country to stay with her uncle Gabriel. All she really wants to do is ride the metro, but finding it shut because of a strike, Zazie looks for other means of amusement and is soon caught up in a comic adventure that becomes wilder and more manic by the minute.
9. Suite française
Book title in French: Suite française
Author: Irène Némirovsky
Date of the story: 1940
Suite Française is a singularly piercing evocation that is, at the same time, severe, deeply compassionate, and fiercely ironic of life and death in an occupied France. It's a brilliant and profoundly moving work of art by Irène Némirovsky who planned a sequence of 5 novels, but she was arrested and murdered in 1942.
10. Chéri
Book title in French: Chéri
Author: Colette
Date of the story: around 1900
The last contemporary fiction book in this list is Chéri by Colette.
Léa de Lonval is an aging courtesan (50), a once-famous beauty facing the end of her sexual career. She is also facing the end of her most intense love affair, with Fred Peloux (25) known as Chéri, a playboy. But neither lover understands how deeply they are attached, or how much life they will give up by parting ways.
Books about the history of Paris
11. Metronome
Book title in French: Metronome
Author: Lorànt Deutsch
Date of the story: Nowadays
This is a great read if you are looking for a book that covers the history of Paris. The French actor, passionate about history, tells the story of Paris through the metro stations. Did you know that the Lutèce of the origins was not located in Paris, but in Nanterre? And that the bodies of the last Gallic fighters massacred by the Romans are buried under the Eiffel Tower? Find out more about history by checking this list of French-speaking YouTube channels.
If you want to share your love of reading, then join our reading community. You'll read French books, discuss them, and at the same improve your French. Reading is not always an isolated affair. You can join a book club to improve your French with books.
Do you have any favorite books about Paris ? Let me know in the comments below.