13 French-speaking YouTube channels to learn history and practice listening
Updated: March 11, 2023 by Elie in Entertainment ▪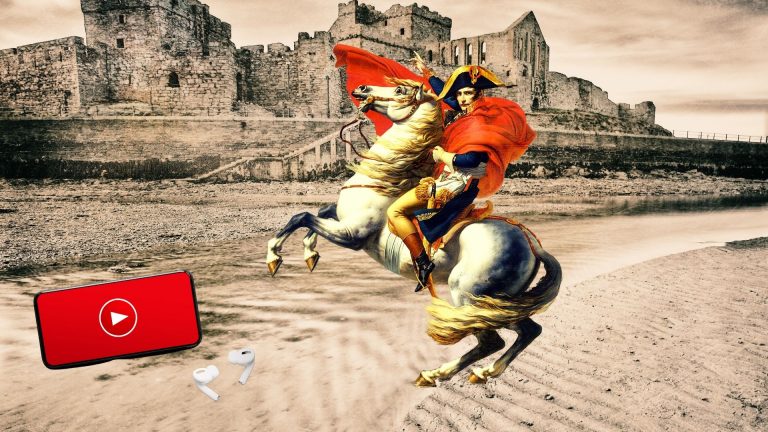 Ever wanted to find engaging ways to boost your French language? If you're already learning French, or you're heading in that direction, you'll need to sharpen your French listening skills. Watching authentic French videos represents a powerful way how learners can develop their French listening skills. And YouTube channels are great places for French learners to practice their listening skills outside the classroom. When used wisely, videos can push the boundaries to learn French better.
In what follows, we'll cover:
Videos as a language learning resource
The boom of apps and social platforms in this digital era made an impact on the world of teaching and learning foreign languages. While a growing number of online students are well versed in using technology, French learners adopted the use of streaming video platforms to grow their vocabulary, enhance their listening, and improve their pronunciation.
Learning a language is much easier when you're having fun. It's much more pleasant to watch movies in French or to read articles that match your interests. Many learners feel motivated to learn when:
In this context, YouTube supplies limitless opportunities to maximize learning for French language learners. As research has shown, groups of students who viewed YouTube clips have outperformed groups of students who were not exposed to these videos in terms of growing their vocabulary. In addition, using authentic video resources does enhance students' listening skills for intermediate and advanced proficiency levels, as shown in another study. Furthermore, the effectiveness of educational content on YouTube is a great opportunity to reinforce pronunciation skills, as revealed in this research.
Video platforms disrupting the world of language learning
It is clear that videos play a significant role in the modern teaching and learning of foreign languages. Videos are a great way to stimulate learners and enhance comprehension by providing visual cues. Watching online videos provides many benefits for language learners who are quickly grasping the use of features such as pausing and rewinding, enabling or disabling subtitles, and increasing or decreasing audio speed.
While all these features are great and compelling, finding interesting videos from a vast pool of online content isn't always an easy task. YouTube provides various functionalities to search and find videos. One popular functionality is video recommendation. In fact, video recommendation is a major feature that many video streaming platforms provide. These recommendations are powered by algorithms and recommendation engines to provide video suggestions that closely match users' interests.
Master Your French on YouTube
YouTube channels meet French learners' needs
One of the things people love about YouTube is its huge database of videos. But with more than 500 hours of video uploaded every minute, it can be hard to find a particular video or the one channel that you need to improve your French. Talk about a needle in a haystack!
YouTube is localized in over 100 countries and can be accessed in 80 different languages. This online video-sharing platform is full of videos in different languages that address various areas of knowledge. In the context of this article, we're interested in French-speaking videos and channels.
On these channels, published video materials can take various forms, such as films, animations, songs, clips, talk shows, debates, and interviews. These channels produce a plethora of content to entertain and educate. Many educational channels can be categorized into various scientific disciplines such as environment, mathematics, language learning, literature, history, biology, and physics. For this work, I'll focus on channels that publish videos about a particular discipline: history.
To help save you time, I've whittled down those hundreds of French-speaking history channels into a list of the 13 best channels to learn about history while practicing your French listening skills.
Those who do not remember the past are condemned to repeat it.
Georges Santayana (The life of reason, 1905)
Image credit to Smithsonian American Art Museum
There's no doubt that history is a topic that really matters for many of us. At the same time, there are many fascinating ways to learn about history. Perhaps you read the biography of Napoleon Bonaparte, or watched a historical movie like Troy, or visited the Louvre Museum, or went to a memorial site like the plain of Alésia, or traveled to a city in France.
From historical facts to mysteries and myths, you're about to discover some of the best French-speaking channels for learning about history!
Hand-picked French speaking channels
1. Nota Bene
Nota Bene is a French-speaking channel with more than 1 million subscribers. On this channel, you'll find videos made by Benjamin Brillaud about the history of Europe and the world. Historical events, wars, famous historical figures, and empires are among the topics addressed on Nota Bene.
2. Les Revues du Monde
Les revues du monde is another great educational channel that publishes documentaries in French about history, archeology, and other important discoveries. This channel was created by Charlie Danger as a way to share her passion for history.
3. C'est une autre histoire
C'est une autre histoire is an educational YouTube channel to learn about history without getting bored. Manon Bril, Ph.D. in History, is the creator of this channel where you regularly discover videos in French about history, mythology, iconography, and art. You'll also find animated historical documentaries.
4. Questions d'Histoire
Questions d'Histoire publishes videos about various historical themes that range from general history, to inventors, figures, and facts. You'll learn a lot and discover interesting facts on this channel. Recently, an English version of the channel was created.
5. Histoire Appliquée
Histoire Appliquée proposes an interesting perspective. As its name implies, the channel is about applied history told with a genuine love for the material. The creator answers questions by reproducing objects from the past, experimenting with elements as they existed in their period, and explaining historical battles.
6. Parlons Y-stoire
Parlons Y-stoire is a channel where the creator shares his passion for teaching history. With these videos in French, you'll learn a lot about wars, countries, problems, and facts. You'll also discover important events that influenced the world.
7. Sur le champ
Sur le champ focuses on analyzing military tactics and strategies. On this channel, you'll discover and understand everything you need about famous battles while exploring the history surrounding them.
8. La prof
Can't get enough of History? La Prof is a YoutTube channel that history lovers will adore. Justine de France, the creator of the channel, addresses various historical topics related to the Middle Ages, pirates, wars, and astrology.
9. D-Mystif
On D-Mystif, you'll learn about the history of France, Europe, and the world. You'll discover famous as well as non-famous figures from the past. The videos explain many historical facts and help you discover untold and weird parts of history that isn't addressed on other YouTube channels.
10. JVH – Jeux vidéo et histoire
Gamers will love this channel, JVH – Jeux vidéos et histoire. It combines famous video games and history. The creator of this channel, Romain Vincent (PhD. student), makes use of many video games to explain historical facts related to places, clothes, and other elements from the past. Among the video games that make reference to the past, you'll find Battlefield, Assassin's Creed, Call of Duty, among many others.
11. Le Phare à On
Le Phare à On is a YouTube channel that focuses on Ancient Egypt, the pharaohs, Egyptian hieroglyphs, and monuments in Egypt. The creator of the channel is a Dr. in Egyptology.
12. Sous La Toile
Sous la toile is a YouTube channel that publishes documentaries related to history and art. You'll discover numerous paintings, deep dive into the analysis, and get plenty of explanations. The following video "Notre dame de Paris – son histoire racontée un an après l'incendie !" is a nice first video to watch.
13. Nora Minion
Nora Minion is an educational YouTube channel where you can find stories of forgotten history. The channel addresses topics related to history, the Middle Ages, and famous historical figures like Napoleon and Marie-Antoinette, as well as other topics related to art.
It's time to improve your skills
History might be tragic, it might be comic. But it's our story. Passionate people excel in telling stories about historical events and figures. Mastering the art of storytelling and communication isn't an easy skill.
Learning a foreign language is another skill that can be built and improved with practice. To communicate easily, you need to practice your listening and pronunciation skills, as they are crucial factors for successful communication. Overcoming these difficulties is what many French learners want to achieve when studying French.
There are many key active techniques you can use to help you become a better listener when communicating in French. Watching videos in French is one of these techniques. You can also take specific online courses to boost your French language skills.
Master Your French covers a wide range of topics to help French learners improve their pronunciation and grow their listening and speaking skills. Keep learning with Master Your French by taking our online French courses.