French Meditation Apps & Crystals to Unlock Your Well-Being
Updated: June 19, 2021 by Elie in About France ▪
French meditation apps have surfed the mindfulness wave and have matured in recent years. While an app on your phone is a great way to get started and to keep up with the meditation practice, some people seek other effective ways to elevate their experience. One of these options is meditation with crystals. It's an ancient practice that unlocks energy and helps you find inner peace.
In what follows, we'll answer the basics questions around meditation, provide you with a list of French apps to try, and present the best crystals that you can use to reach mindfulness. You'll also find a list of the French vocabulary related to meditation and crystals.
Here are the topics covered in this article:
Meditation: A mental exercise
Mediation is the mental exercise that involves relaxation, focus, stillness, and awareness according to Giovanni Dienstmann, the author of Practical Mediation: A Simple Step-by-Step Guide.
As explained in this definition, this exercise helps meditation practitioners to:
Relax their body, breath, and try to release all bodily tensions
Concentrate and focus their attention on a single object over and over again
Find stillness where the physical stillness is one way to experience meditation
Become aware to remain present and undistracted while spreading awareness of the whole body
Meditation is an exercise for the mind and the body. It also engages the emotions and the nervous system. In practice, meditation is about reaching a state of focus on higher emotions and energies by disconnecting for short, or longer periods, from the present outer mundane world. Calming an overactive mind takes work!
The power of meditation
Meditation is a method of spiritual awakening. It is a way to purify the mind. It is also a method to overcome suffering and to expand awareness.
Meditation is here to help us evolve as humans. Most of us have stressful lives, between our family, work, society, deadlines, as well as many other responsibilities… It is a never-ending process.
Meditation helps us in our daily life. Taking a break for yourself during the day to pause is really important. This can be for 10 seconds, 1 minute, 10 minutes, or more depending on how much time we have.
People who meditate try to attain a high level of mindfulness which means the state of disconnecting and detaching from our mundane life and thoughts.
The more you practice, the fastest attaining this state becomes.
Getting started with meditation
The fundamental basic steps of meditation are simple:
Close your eyes and breathe in and out many times slowly.
Breathe slowly through the nose counting till 3 and then letting out all the negativity through the mouth.
Try to focus on getting into your body and let out all the negativity.
Try repeating this process until you get focused only on your breathing.
Little by little, you will detach and disconnect from your material reality.
To help this mindfulness process, try closing your eyes, and only focus on your breathing.
With time, repeating this process will become a habit and you will start learning to disconnect faster from your present reality calming your mind and your thoughts.
Mediation is the mental exercise that involves relaxation, focus, stillness, and awareness.
Giovanni Dienstmann
Apps to meditate in French
There are hundreds of meditation apps. After talking to experts and researching 12 apps, the New York Times's Wirecutter made a list of the best meditation apps in 2020. No doubt that HeadSpace and Calm, two of the world's most popular meditation apps, are at the top of the list.
With so many apps and ways to meditate, the choice is yours!
In France, Petit Bamboo and Namatata Meditation are two popular meditation apps. They aim to replicate the global success of Headspace and Calm with a French-language mobile version.
Petit Bambou
Petit Bambou is one of the best meditation apps. It makes it easy to get started with meditation. With more than 20 programs, this meditation app has everything you need to teach yourself the techniques to become a serious meditation practitioner.
This French mindfulness app is the #1 free meditation app in France with over 6 million users. The programs, guided sessions, and voices of Petit BamBou are prepared by a large number of meditation experts in different languages.
And of course, with Petit Bambou you can meditate in French. Here are the names of some meditation programs in French:
Progression
Sleep
Mind
Work
Daily
Inspiration
Health
Namatata Méditation
Namatata is another French meditation app that you should consider. With Namatata, you'll be able to listen to meditation sessions in French.
The free version has 7 meditation sessions available which are a great way to discover the practice of meditation.
In the paid version, Namatata excels in the diversity of its programs that allow you to choose a session according to what you're currently doing.
There are hundreds of sessions to manage stress and to sleep better. As summarized by Namatata, the benefits of meditation are numerous. Among these potential benefits:
Happiness increase
Stress reduction
Anxiety reduction
Longer life-span
Better sleep
Concentration increase
Better nutrition
Pain control
Better relationships
Better health
Increase in self-esteem
Related French Meditation Vocabulary
Among the previously mentioned words, here are some terms in French and English that are related to the French meditation vocabulary:
Anxiété: Anxiety
Bonheur: Happiness
Concentration: Concentration
Confiance: Trust
Douleur: Pain
Inspiration: Inspiration
Méditation: Meditation
Méditation guidée: Guided meditation
Mental: Mind
Programme: Program
Relations: Relationships
Respect de soi: Self-esteem
Respiration: Breath
Santé: Health
Sérénité: Serenity
Session: Session
Sommeil: Sleep
Stress: Stress
Meditate with crystals and stones
Using crystals for meditation is an ancient practice by many cultures around the world for thousands of years.
The following quote summarizes the use and importance of crystals since ancient times. You can find it in the article Use These 6 Crystals to Connect with the Universe.
Humans have been drawn to crystals for thousands of years. Kings and queens used them for protection, shamans use them for healing, watch-makers use quartz to tell time, and scientists use them in microchips
Why meditate with crystals?
Crystals are a powerful way to deepen your meditation. Using crystals for meditation can supercharge the power of your intentions. Manifest your goals and and you'll act accordingly to achieve them. Beyond using them for mediation, crystals are also used for healing chakras and balancing energy.
In reality, healing stones and crystals can connect people to certain emotions. Leveraging the power of stones and crystals is a way to experience and develop a unique meditation practice. Besides there benefits, you can carry crystals with you and, therefore, stick to your mediation rituals wherever you are. Consistency is key after all!
Best Crystals for meditation
Below you'll find six of the best crystals, with their characteristics, to help you with meditation. You can get these stones from The Land of Energy.
1. Lapis Lazuli
Lapis Lazuli crystals promote:
Love
Intuition
Inner truth
Inner power
Power
Decisions
Positive magic
Self-confidence
View Crystal
2. Amethyst (Améthyste)
Amethyst crystals are associated with:
Positive transformation
Feminine energy
Psychic abilities
Inner peace and healing
Meditation
Balance
Stress relievers
Communication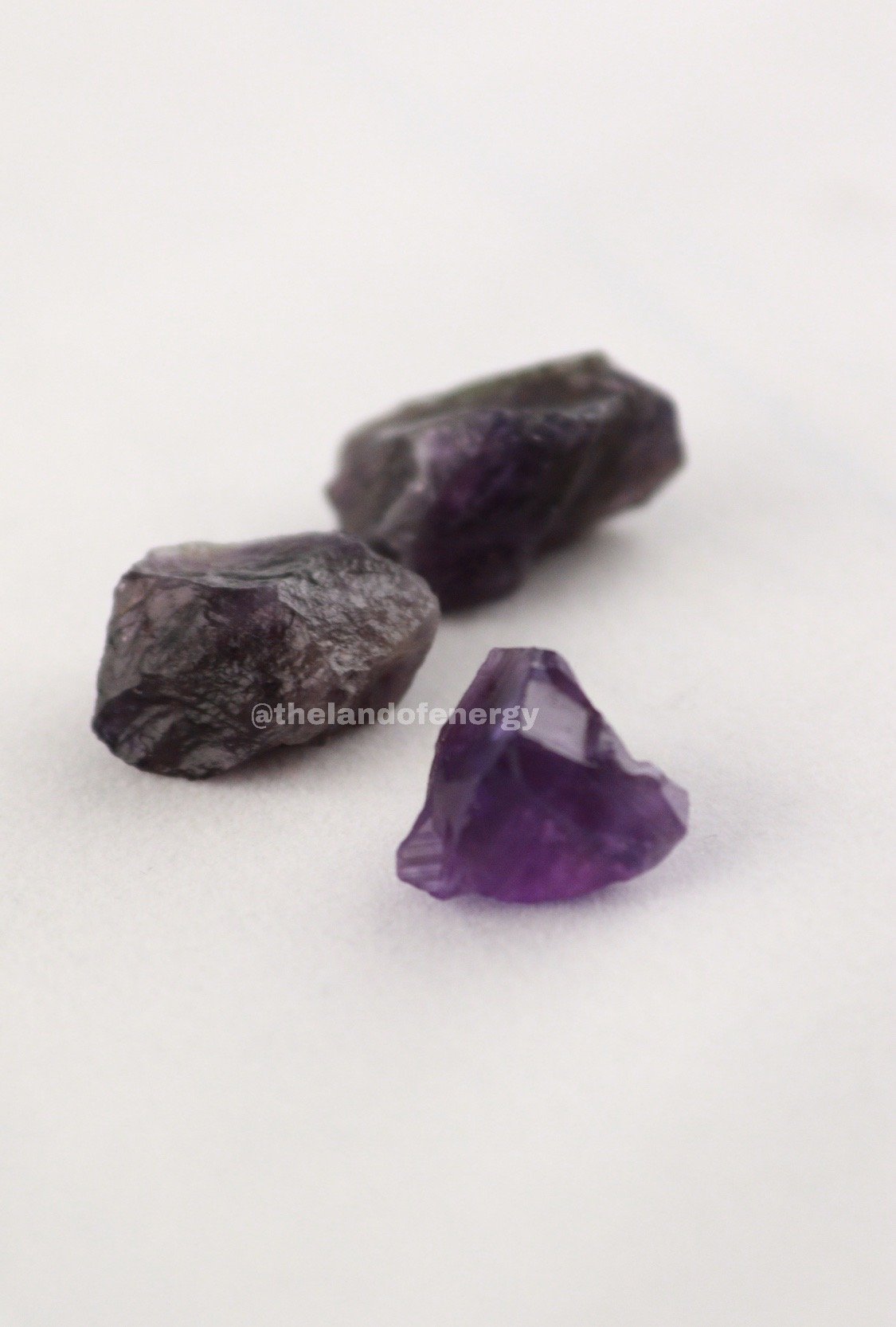 View Crystal
3. Aventurine
Aventurine crystals are associated with:
Balance
Energy
Abundance
Personal Growth
Healing and comforting
View Crystal
4. Black Tourmaline
Black Tourmaline crystals promote:
Protection
Grounding
Electromagnetic vibrations reduction
Low vibrations reduction
Negativity absorption
Good luck
Happiness
View Crystal
5. Mookaite
Mookaite crystals are associated with:
Grounding
Spirituality
Ancestral power
Healing the body
Anxieties and fears of the future reduction
Intuition boosters for major decisions
View Crystal
6. Citrine
Citrine crystals are associated with:
Prosperity
Generosity
Creativity
Protection
Confidence
Energy
Comfort
Success
Truth
Spiritual growth
View Crystal
Crystals' Properties French vocabulary
Among the previously mentioned terms, here is the related French meditation vocabulary:
Abondance: Abundance
Amour: Love
Ancrage: Grounding
Confort: Comfort
Créativité: Creativity
Crystal: Crystal
Équilibre: Balance
Énergie: Energy
Décision: Decisions
Générosité: Generosity
Intuition: Intuition
Pierre: Stone
Prospérité: Prosperity
Protection: Protection
Spiritualité: Spirituality
Succès: Success
Vérité: Truth
The following list includes the crystal vocabulary in French that has two or more words:
Basses fréquences: Low vibrations
Bonne chance: Good luck
Croissance spirituelle: Spiritual growth
Confiance en soi: Self-confidence:
Développement personnel: Personal Growth
Force ancestrale: Ancestral power
Guérison physique: Healing the body
Moment de magie: Positive magic
Moment de vérité: Inner truth
Ondes électromagnétiques: Electromagnetic vibrations
Pierre des guérisseurs: Healers' stone
Paix intérieure: Inner peace
Pouvoir intérieur: Inner power
Transformation positive: Positive transformation:
Manifesting your desire
Different schools of thought, different societies, and different religions have their opinion on mediation.
Meditation, using apps or with crystals, is one way to reduce stress and anxiety.
While there are many ways to practice meditation, having crystals nearby is a powerful way to deepen your meditation.
Now, more than ever, it's time to seek mindfulness and to improve our well-being.
Manifest your goal and clarify a particular vision you would like before you start meditating.
Doing so will make you more likely to act accordingly and achieve this specific outcome. State and visualize what you want and desire.
So tell me, what do you truly desire?
You're learning French?
Along manifesting your goals and desires, Master Your French is here and we've got your back – the membership program covers multiple French courses.
Join the membership program and explore a collection of listening and pronunciation courses that are dedicated to helping students and language learners.
Have fun and learn
Using a French-language mediation app is a good practice to get more familiar with the French language. In reality, switching the language of your phone or even the language of a few apps to French is a common practice among language learners.
Learning a language is much easier when you're having fun. Watching French movies is among the fun activities that learners can do to improve their French skills. To help you choose, we made a selection of 5 must-see French movies of great artistic quality for you to watch.