French Christmas Vocabulary to Celebrate Christmas in France
Updated: March 13, 2021 by Mylene in French Vocabulary
Christmas is Noël in French, Noël is masculine in French: un Noël. We usually use the word Noël without any article. The great things about Christmas are putting up the decorations, eating foods, and spending time with the family.
Let's learn some generic French vocabulary and discover traditions and foods!
In this article, you'll learn:
Christmas in France
It's important to know how to speak about Christmas in French. Between November and January, you can expect to see lights being hung, trees being put up, and presents being wrapped in France.
In this season, you might want to review how to talk about seasons in French or review the list of months in French.
The month of December in France
Every kid and some adults have an advent calendar for December. Every day they open a tiny flap, which reveals a special picture, an activity, or a little present.
L'avent: the advent
The day of Noël is le 25 décembre (December 25 th)
La veille de Noël: Christmas Eve
Le Réveillon de Noël: the Christmas meal and party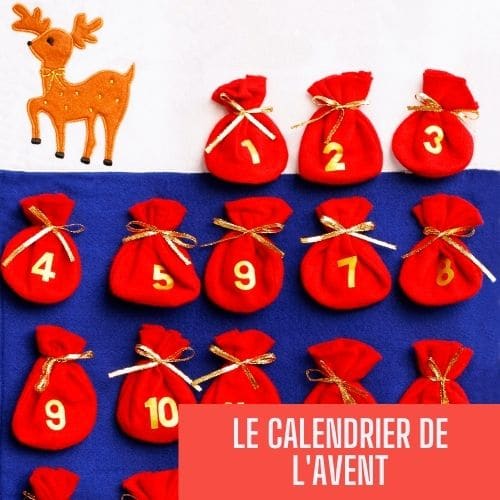 French Christmas foods and drinks
French families have their big meal the night before Noël, on Christmas Eve (le réveillon).
Each French region has its own traditional food. It depends on the regions where traditional food can be goose, turkeys, or oysters.
When it comes to dessert, however, many French families look to the same dessert: la bûche de Noël (Yule log).
Other parts of France have their own traditions, too, and if you're lucky enough to be in Provence, you can expect to sample up to 13 desserts!
Let's see the main Christmas food vocabulary:
L'apéritif : before meal drinks and finger food
L'entrée: the first course
Le plat principal: the main course
Le plat principal: the main course
Du saumon fumé: smoked salmon
Des huîtres: oysters
Du foie-gras: foie gras
La volaille: fowl
Un magret de canard: duck breast
Une dinde: turkey
Le boudin blanc: white pudding
Le fromage: cheese
Un plateau de fromages: cheese
Le dessert: dessert
Les treize desserts (13 desserts): a Christmas tradition from Provence
La Bûche de Noël: Christmas Yule log cake
Des truffes au chocolat: chocolate truffles
Des marrons glacés: candied chestnuts
Des marrons chauds: roasted chestnuts
Un bonhomme en pain d'épice: gingerbread man
La boisson: drinks
Du vin chaud: spiced wine
Kir royal: Kir royal
French Christmas Greetings
Here is also a list of best wishes and greetings you can use this season:
Joyeux Noël: Merry Christmas
Joyeuses fêtes de fin d'année: Happy Holidays!
Bonnes Fêtes! Happy Holidays
Je vous souhaite un joyeux Noël: I wish you a merry Christmas!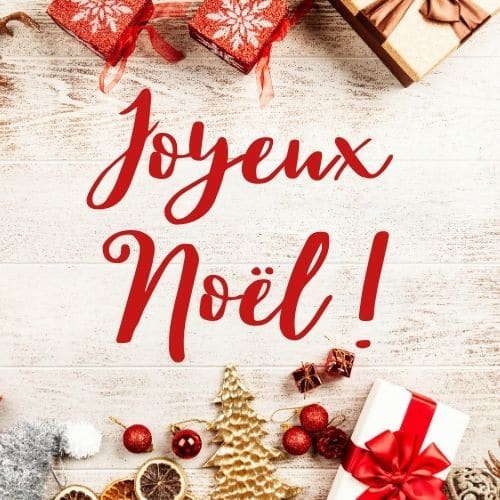 Christmas Ornaments Vocabulary
Christmas lights and decorations is as popular in France as it is in other celebrating countries around the world.
Les décorations de Noël: Christmas ornaments
Un sapin de Noël: a Christmas tree
Une guirlande: a garland
Une étoile: a star
Une guirlande électrique: a string of lights
Une couronne: a wreath
Un renne: a reindeer
Du gui: mistletoe
Du houx: holly
Manger Vocabulary
There are a number of places across France in which you can attend carol services on Christmas Eve. By the way, you'll generally find a manger inside the churches in France.
Une crèche: a manger
Une prière: a prayer
La messe de Noël: Christmas mass
Inside a manger you have:
La Vierge Marie: the Virgin Mary
Joseph: Joseph
Le petit Jésus: baby Jesus
Un âne: a donkey
Un boeuf: an ox
Un ange: an angel
Les Rois Mages: the 3 Kings
L'étoile: the star
Un berger: a shepherd
Un mouton: a sheep
Little figurines called santon in Provence.
To read more about santons, the Provençal's little saints, you can read this article: The Santons of Provence: A History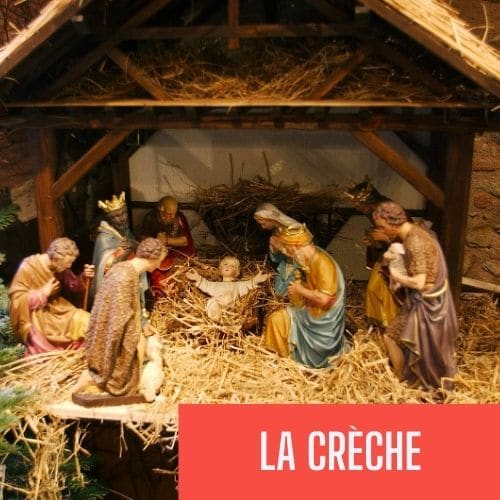 Verbs for Christmas
The best part of Christmas isn't the delicious food or the presents… it's spending time with people you care about.
Passer Noël en famille: to spend Christmas with your family
Faire un festin: to feast
Faire la cuisine: to cook
Décorer la maison: to decorate the house
Christmas is the time for giving and receiving presents, which are things that you give to others as a gift.
Emballer un cadeau: to wrap a present
Faire des cadeaux: to give away gifts
Ouvrir des cadeaux: open presents
Descendre dans la cheminée: to go down the fireplace
Santa in French
Giving and receiving presents is one of the major parts of the Christmas season in France.
When you were a child, you might have believed in Santa Claus, a very happy and friendly man. Santa is Père Noël in French.
Santa wears a red coat, pants, and hat. He gives out presents on Christmas Eve to children around the world.
Santa has little magical people called les elfs (or les lutins) elves to help him make all the toys and other presents.
Un traineau: a sleigh
Un renne: a reindeer
Un elf: an elf
Un cadeau: a gift
Une cheminée: a fireplace
Du lait: milk
Des biscuits: cookies
Écrire une lettre au Père Noël: to write Santa a letter
Une carte de noël: Christmas card
Un chant de noël: Christmas carol
Local Celebrations in France
In France you can find many festive activities going on in towns all throughout the month of December.
One of the best-loved Christmas events is le marché de Noël (Christmas market). Be sure to visit at least one Christmas market to discover:
local foods and drinks
crafts and artisanal gifts
make a photo with Santa
By the way one of the biggest Christmas markets takes place in Strasbourg.
French Christmas songs
Vive le vent (Jingle Bells) has exactly the same tune as the English version.
Learn the most famous song Petit Papa Noël. Papa Noël is Santa in French.
Petit Papa Noel, like other songs, is an amazing way to learn French. Read French Christmas Songs to read the lyrics of Petit Papa Noel.
Christmas tradition in France
If you want to give your concierge or your child's teacher a gift in France, you will normally buy them une étrenne (New Year's gifts).
It's a small present given out to private and public workers in France. You can cook some biscuits or buy some chocolate as you wish.
Now you're ready to celebrate Christmas in French.
Joyeuses fêtes ! 
Subscribe to Master Your French​
Get the latest posts delivered right to your inbox.