Top magazines and newspapers for all French learners
Updated: April 10, 2021 by Mylene in Entertainment ▪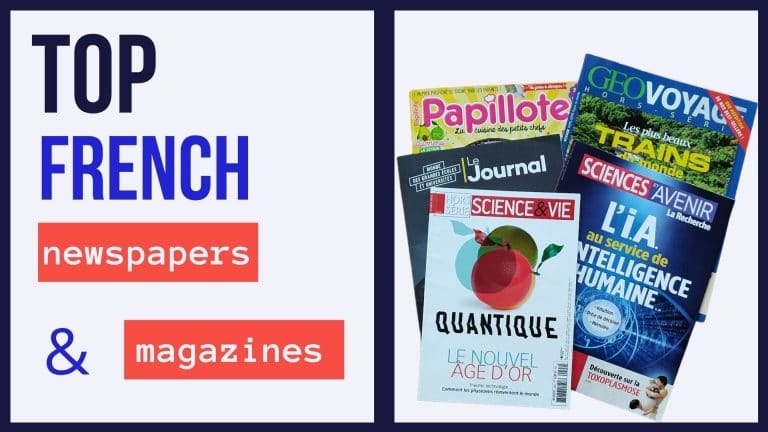 Do you want to read a magazine or a newspaper in French? I'll give you a selection of well-known French magazines and newspapers to improve your French understanding and reading skills.
But not all magazines and newspapers are suitable for every French learner. The advice is to choose the right level first and then pick a topic you're interested in.
In this article you'll learn :
The benefits of French newspapers and magazines
We've previously discussed learning French with French comics and recently explored a list of books set in Paris to discover the city and to improve your French skills. Newspapers and magazines can also help learners to level up their French language. In reality, reading in French has many benefits for learners of all levels:
Practice your understanding by reading short stories
Discover the French culture
Expand your vocabulary by reading different topics
Learn better sentence structures
Test your French skills with some games like crosswords
French magazine vocabulary
First, let's cover the magazine's vocabulary that you'll need if you're learning French:
un magazine: a magazine
hebdomadaire: weekly
mensuel: monthly
bimensuel: bimonthly
s'abonner: to subscribe
un abonnement: subscription
un abonné: subscriber
les lecteurs: readers
la politique: politics
l'actualité: news
la presse féminine: women's magazines
un reportage: a news story or report
les mots croisés: crossword puzzle
la couverture: the cover
French newspaper vocabulary
Similarly, when reading a French newspaper you'll often hear the following vocabulary:
un journal: a newspaper
un quotidien: a daily newspaper
hebdomadaire: weekly
un canard: an informal term for newspaper
un journaliste: journalist
l'actualité: news
à la une: the front-page story, top story or stories
A selection of magazines and newspapers for basic French learners
Children's newspapers are an excellent choice for French learners because they use simple language and often explain expressions and concepts in more detail than traditional newspapers. It's easier to understand children's books and it encourages learners to read more and more.
Each issue contains an illustrated short novel. You'll also find games and comic strips.
It is a daily newspaper for children between 10 and 14 years old. The simple language being used is especially great for basic French learners!
This weekly newspaper is for children aged between 8 and 14 years old, so the content is perfect for beginners as well as for lower intermediate French learners. The covered topics are usually related to sport, science, culture, news.
This magazine publishes one news story every day. Contributors use basic French, so it's perfect for beginner and lower intermediate learners.
20 minutes is a free daily newspaper. It's called 20 minutes because you just need 20 minutes to read it. Each edition covers local, national, and international news.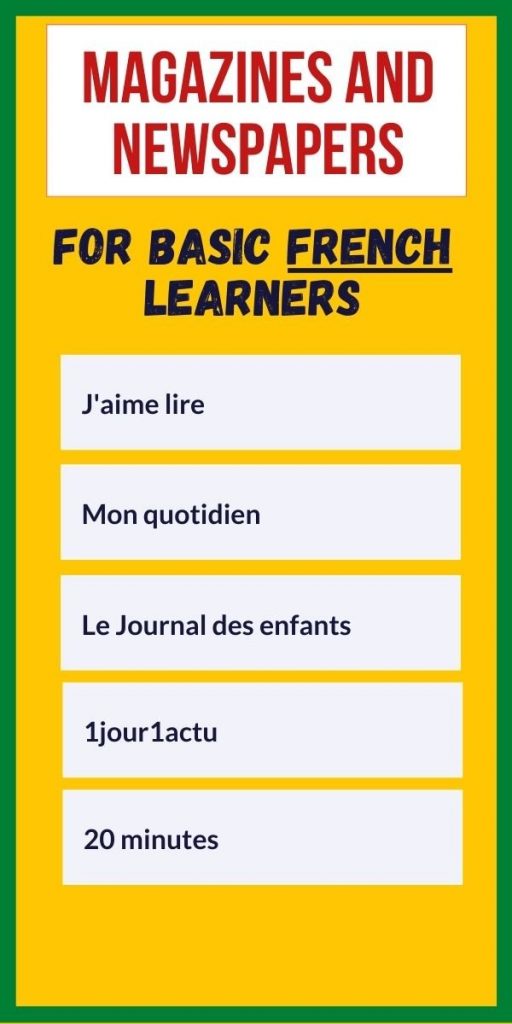 Famous French magazines and newspapers for Intermediate learners
The choice is yours. Pick the subject you're interested in:
women's magazines
parenting magazines
culture
general information
news publications
society
science
Those magazines and newspapers are perfect for B1 to B2 level.
Art and culture
Télérama covers TV, music, cinema, and more.
Often referred to as "Les Inrocks", as its name suggests, it features critiques, essays, and stories about all sorts of events and releases in the entertainment and cultural landscape.
Science and geography
This popular science magazine is published weekly.
A magazine devoted to travel and learning about places around the globe.
Sport
L'Équipe, offering in-depth coverage of many different sports stories.
News
It covers interesting topics in subjects like science, culture, health, and society.
Weekly French news magazine, it was previously known as Le Nouvel Observateur. The topics are politics as well as cultural topics like the literary world.
It tries to showcase different points of view.
Le Parisien is the best newspaper to follow if you're interested in Paris-related news and events. It covers national and international news.
La Croix is a newspaper dedicated to world news, economy, and culture.
It covers topics like tips on things like saving money, parenting, guides to legal procedures, health, and more.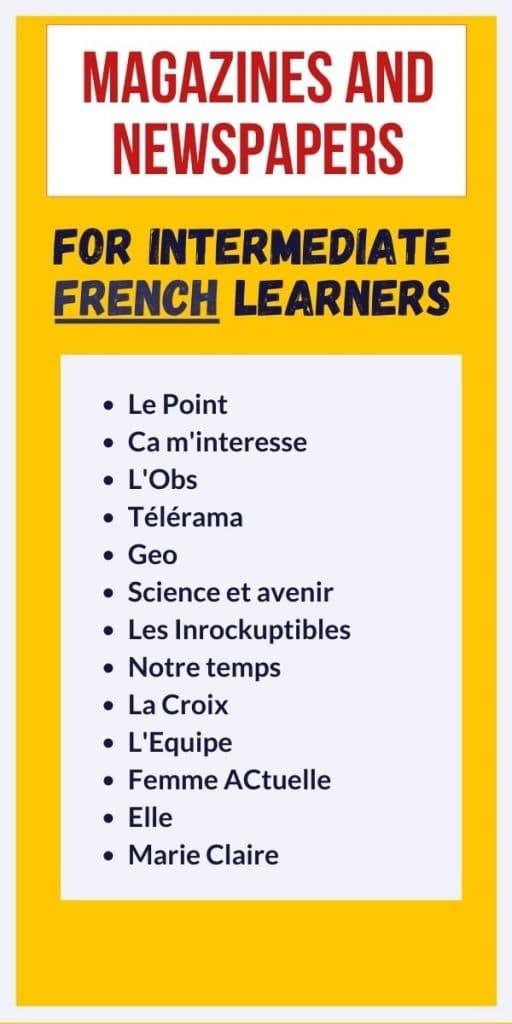 French Regional Newspapers
If you want to get familiar with French regional newspapers, here are the most popular editions for each major region in the country.
Brittany/Normandy/Pays de Loire
Southwest France (Nouvelle-Aquitaine, Lot-et-Garonne, Pyrénées-Atlantiques, Dordogne)
Northern France (Hauts de France, Pas-de-Calais)
Paris and the Île-de-France and Oise
Southeast France (including Lyon, Auvergne-Rhône-Alpes, Provence, Alpes, Cote d'Azur, Savoie)
Lorraine, Franche-Comté, and surrounding areas
Top magazines and newspapers for advanced French learners
They are most suited to learners around the C1 to C2 level.
Le Monde is one of the most widely-distributed French newspapers. It covers French events, world news, culture, economy and politics.
Focus on economics, politics, and world news.
Founded in 1846, Le Figaro is the oldest newspapers in the world. Focus on French current event and economics.
French daily newspaper founded by philosopher Jean-Paul Sartre. It is focused on French events, politics and economics.
It publishes economic analyses from leading economists, but also covers topics such as science and innovation.
It translates news articles from other languages into French. For example, you could read the news of your country in French.
French science magazine publishes since 1913.
A satirical newspaper that is published weekly. Its name literally means "the chained duck". Canard is also a French slang word for "newspaper". This newspaper investigates political and economic scandals and heavily relies on cultural references.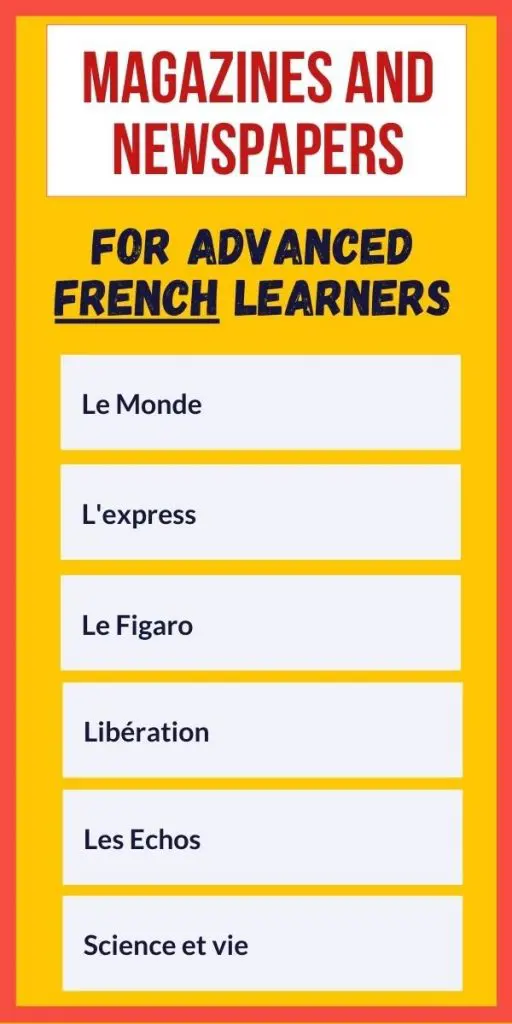 Where to buy French magazines and newspapers?
All these magazines can be found:
in France: in a "bureau de tabac" (tobacco store)
in France: grocery stores
online version
overseas subscriptions
French bookstores that sell at least a few periodicals
When it comes to French magazines' websites, they offer a lot of content that you can enjoy for free. These websites feature articles that are available without a subscription. You can subscribe to the online version, which is richer and more interesting than the paper version because it has color photos and videos. According to this study by Statista, the revenue in the digital newspaper & magazines segment is projected to reach US$1,751m in 2021.
Subscribe to Master Your French
I hope you enjoyed this list of useful French magazines and newspapers.
Helping online learners and students and setting them up for success is essential at Master Your French. Become a member and learn French!