There comes a point in nearly everyone's language learning journey when it's time to hit new expressions. There are those expressions that call for specific concepts, involving combining words in a novel way and combining different contextual vocabularies in a weird way. Or, sometimes a learning an entire vocabulary, which may be a new one or a combination of any of the already acquired vocabularies.
The wonderful thing about the following list of useful French expressions is that it could serve you to sound like a true French. And in some cases, it will help you avoid misunderstandings and prevent awkward or unwanted situations. You can also check Master Your French listening course to help you raise your listening skills to native-speakers level.
In this guide, we'll cover the following expressions:
How to say you're welcome in French?
Welcoming someone or replying with a welcome gesture is common in various cultures and in different languages including English and French. Today, it has become commonplace, to say "you're welcome" not only as a reply to "thank you".
In French, a common reply to "thank you" is "de rien". However, there are numerous ways of saying you're welcome in French. Truly to its source and one way from these new trends, I'm going to outline various French expressions in order to show you the real use of this you're welcome in the French language.
As depicted in the image, these are 12 different expressions to say you're welcome in French.
De rien
Ce n'est rien
Il n'y a pas de quoi
Y'a pas de quoi
Il n'y a pas de problème
Pas de problème
Je vous en prie
Je t'en prie
Avec plaisir
C'est moi qui vous remercie
C'est moi
Merci à vous
In our daily conversations and our day to day life, we encounter situations where a polite reply is needed. As I explain, you can substitute the use of you're welcome with other terms that suit better the situation. You can find all the details when to say "you're welcome" and how to use its variants in the main article you're welcome in French.
How to say cheers in French?
People from different cultures around the world have their own words to say cheers in their native languages. Besides diversity between languages and cultures, there are many ways to say cheers within the same language. Indeed, choosing the words to say cheers depend on many factors such as the celebrated event or gathering and the people at the event. Check the infographic below.
These are 8 different expressions to say you cheers in French:
À votre santé: it's a polite generic toast that translates to "To your health" and often used in plural/formal contexts
A ta santé: is a generic toast commonly used in singular/informal situations.
Santé: it's a very common generic toast
A la vôtre: is also an expression that translates to "to yours" where the word health is assumed.
A la tienne: similar to "à la vôtre" but is often used in an informal/singular context
A la nôtre: Similar to à la vôtre but refer to us (to ours)
Trinquons: this expression means to clink glasses together
Tchin-tchin (chin chin): very familiar expression
Cheers in French: the do's and don'ts
Again there are do's and don'ts when it comes to how you make a toast in French. They are summarized in the infographic below.
How to say nice to meet you in French?
Nice to meet you is a useful expression, no matter the language. In France, it is essential to learn greetings as it plays an important role in the interpersonal relationships of the French culture.
Whether a professional or a personal introduction, it is important to know what to say, and how to think and act. In reality, introductions are the first step of befriending a new person.
In many contexts, you'd be glad to know the expression. For instance, when traveling to a foreign country, when writing an email, when studying abroad, etc.
I'll present the many ways of saying nice to meet you as well as the details when each expression is most suitable to use when speaking French.
Below is a list of diverse ways to say nice to meet you in the French Language. Use these phrases when you meet someone for the first time:
The Casual Nice To Meet You In French: Enchanté(e)
The Formal Nice To Meet You In French: Ravi(e) de te/vous rencontrer
The Pleased To Meet You In French: C'est un plaisir de te/vous rencontrer
The French Nice To Meet You With A Compliment: On m'a beaucoup parlé de vous
You can learn other ways of saying nice to meet you in French, or nice to e-meet you, in our article dedicated to this topic: How does a French say nice to meet you?
Furthermore, check my video on YouTube, below, if you've ever wondered what to do when you first meet someone in person in France? Should you extend your hand to give a handshake? No doubt that these are common questions most non-native French have. The video will help you learn and pronounce nice to meet you in French.
How to say good luck in French?
For sure, luck plays a vital role in our lives. Wishing good luck is useful in different situations. There are expressions that are best to wish good luck in a formal way, others are totally informal ways and are used only with close friends and family members.
Sometimes, good luck includes a festive message. Other times, good luck is more about effort and less about chance. In addition, in French, there are different nuances of luck.
There are also some expressions – some of them are also found in English – that are related to superstitions such as "je touche du bois" (knock on wood).
Of course, the most common way to wish Good luck in French is "Bonne chance". This French two-words expression can be literally translated to English: "bonne" means good and "chance" means luck.
However, there are dozens of ways to say Good Luck in French and some of these expressions might sound weird.
Bonne chance pour ton entretien: Good luck for your job interview:
Je vous souhaite bonne chance: I wish you good luck
Que votre séjour soit agréable: May your stay be pleasant
Meilleurs voeux pour votre mariage: Best wishes for your wedding
Je te dis merde pour ton concours demain: Good luck in the contest tomorrow
Je croise les doigts pour que ton examen se passe bien: I'm crossing my fingers for your exam to go well
Mon projet avance super bien, je touche du bois: My project is going very well, knock on wood
Bon courage pour votre trajet: Good luck for your journey
Les enfants doivent dormir d'ici une heure, bonne chance pour les coucher!: The kids must go to sleep an hour from now, good luck in putting them to bed!
Besides these 9 ways expressions, you can find additional ways to say good luck in French in this article 20 Expressions to Wish Good Luck in French. You'll find the right situations in which every expression is appropriate.
Last but not least, click to watch my video on Good luck: Good Luck Expressions in French that you need to know.
How to say goodbye in French?
Au revoir is the right way to say goodbye in French. Some alternative terms to say "au revoir" in French also exist. If you'd like to discover 12 ways to say goodbye in French you can watch the video above. In less than 3 minutes, this French video will help you to master all French greetings when saying goodbye.
10 ways to say goodbye in French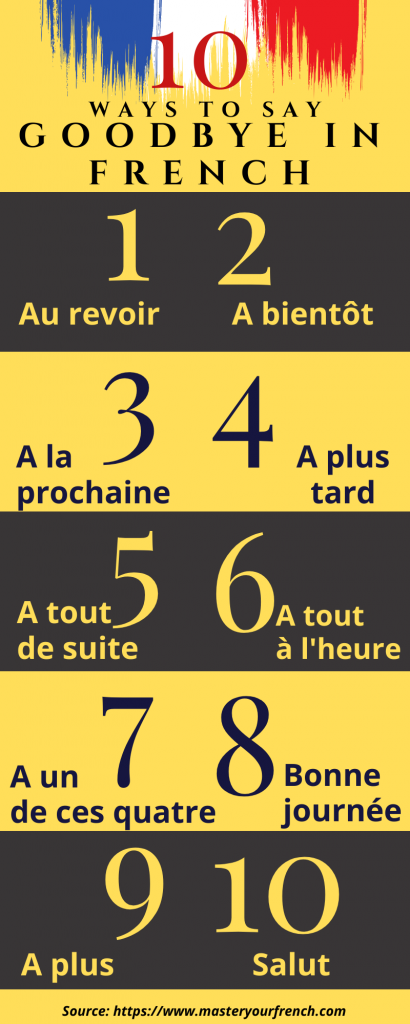 Beyond common French expressions
Check this playlist and watch these how-to videos to learn more French expressions that are commonly used in France. They will have you clinking glasses like a French in no time.
You'll learn the different ways of saying you're welcome in French and nice to meet you in French. You'll also learn how to avoid embarrassing mistakes when saying good luck in French.
You can watch more French videos that I publish. Subscribe to Master Your French channel on YouTube and follow me on Instagram!