9 difficult words to pronounce in French
Updated: July 5, 2023 by Mylene in Pronunciation Lessons ▪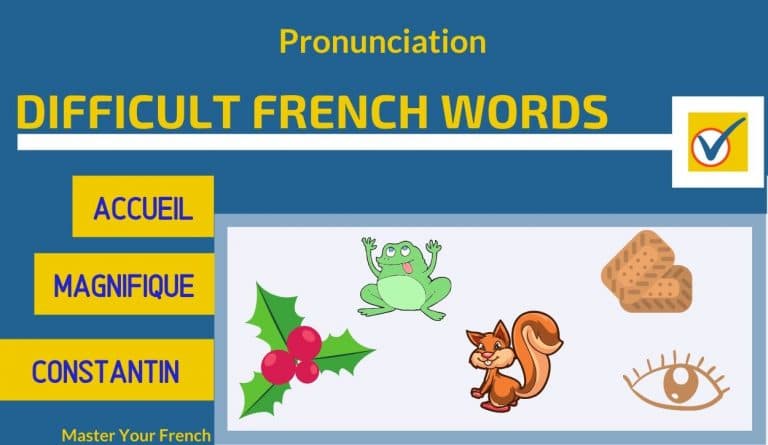 Like other languages, French has many words that are particularly difficult to pronounce for prospective speakers. Some French words are hard to pronounce, not because they are long, but because the spelling and pronunciation require experience and expertise in the language. Other difficult words to pronounce in French contain consonants that may be either voiced or voiceless, or contain nasal sounds that are typically proper to the French language. In fact, the spelling in French and English isn't a safe indication of pronunciation – unlike German, Spanish, and Italian.
In this post, you'll learn how to pronounce:
Is good pronunciation important?
Along with vocabulary and grammar, one of the biggest challenges for French language learners is pronunciation.
But pronunciation often gets pushed to the bottom of the list.
However, accurate pronunciation is important if you want to speak French and be understood.
You might be surprised how much effort is needed when you learn new sounds in a foreign language.
Ultimately you need to reshape the way you move the muscles of your mouth and start exercising them in new ways that are proper to the language you're learning, the French language in our case.
Is French pronunciation easy?
Correctly pronouncing French sounds can be challenging at times, especially for learners who are beginning to study French.
This isn't easy, some French words are pretty difficult to pronounce. Syllabic splitting is also different from your native language splitting. In French, 80% of syllables end in a vowel. It's the opposite in English.
In reality, building up muscle memory is like breaking bad habits and building new ones.
For instance, a bad habit would be to stop switching French sounds for English ones whenever a difficulty arises.
For learners who already have at least a basic knowledge of how French is pronounced but who need help and advice with a view to improving their pronunciation, go check the full guide to learn French pronunciation.
Sounding silly, in the beginning, shouldn't get in the way of mastering the pronunciation of difficult words in French.
Do tongue twisters help?
As building up muscle memory can take time, most people have to focus on continuous improvement by slowly and repeatedly adjusting their pronunciation.
One technique that can help is to embrace tongue twisters. It is a well-known technique for actors and comedians but not only.
Tongue twisters can help you wrap your tongue around the most difficult sounds to pronounce French words.
Beyond the fun aspect, you'll be able to achieve better pronunciation in a much shorter time. Looking for a great place to start, try some of these tongue twisters in French.
Difficult words to Pronounce in French
Of course, there are words that are notoriously hard to pronounce in French. In this article, I've rounded up a few of the trickiest words in French and provided tips that will help you stop mispronouncing them.
When speaking French, you'll encounter these words in your daily interactions. Therefore I find it essential that you learn how to pronounce the following list of most difficult words to pronounce in French.
Voulu
Fouiller
Accueil
Biscuit
Constantin
Magnifique
Organisation
Serrurerie
Yaourt
In the remaining part, I highlight in bold every sound (e.g. "u") for better clarity. Also, whenever I refer to a sound that is part of the International Phonetic Alphabet, I surround it with a backslash (e.g., /y/).
To learn the pronunciation of other difficult words in French, check our articles on how to pronounce French words — you'll find the pronunciation of words like grenouille, heure, and baguette. In addition, English speakers can refer to the following article to discover 10 differences between French pronunciation and English pronunciation.
Video to Pronounce Difficult words in French
If you'd like to do a pronunciation exercise I made a video in which I go over many difficult words to pronounce in French. First I recommend that you read this article and then watch the video as a practice exercise.